I just woke up and I am hurting! These past couple days have been rough. Not mentally, as many of you must be imagining. I don't really grapple with the "OMG-I-have-cancer-I-might-die thing anymore." Don't get me wrong, it is always there in the back of my head, but it is something I have gotten used to, shut out. It is sort of like families living in some war torn area of the world. You know that every day you send your child off to school you might not see them again. You can never forget it, but you put it out of your mind, so you can be sane.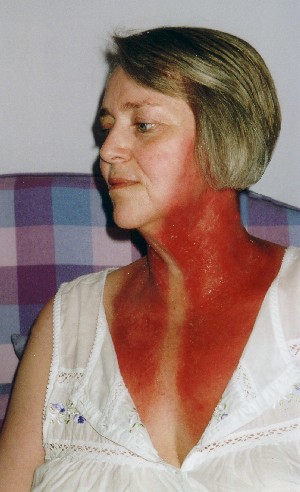 So what has been so difficult? Radiation! I had gone 4.5 weeks with nothing but a light burn, and BAM! This week it KICKED MY BUTT. My skin, a shade of angry crimson, started blistering and popping. Every time one blister pops and the air hits it, I have this searing pain that makes me want to smash my fist through a window. But rather than healing up and toughing up, it just doesn't happen. I don't know why! Chemo? Just the nature of radiation burns?

Here is what my skin looks like, but, this is obviously not me.

So skin all around my chest and under my arm (which is not reddish, but black brown, so nasty), just cracking and oozing blood. Radiation burns feel like you have little glass shards in your skin that you can't get out. So of course, I haven't had one moment to go get my Vicodin prescription filled until 3pm this afternoon (I think I need a secretary). I agreed to baby-sit my cousin, Roshad, this morning, which was a bad idea. You can't properly pick up and take care of a baby when your chest is in so much pain.


After I dropped him off at his grandmother's house, I went to Costco on a Saturday to get my pain medication, and anyone that knows me, knows that Costco Saturdays are my own private version of hell. I had to park a quarter of a mile away, everyone just kind of camped in the aisles with their families not moving, and I still can't figure out how people don't know how to use the self-checkouts. The lady in my lane would scan her item, and then ring the help button so the guy would come and push continue for her so she could scan the next item. I almost stepped up to do it for her, but then I just breathed deeply and went to my happy place.

I survived :) Got home, napped for two hours, and ate some shrimp and Israeli couscous (my husband is on a mission to keep me well fed). On my doorstep was an Argentinean Pinot Noir that my aunt Michele dropped off, and as soon as I am not so highly medicated, I plan to try it. And then my girlfriend Carla bought me a ticket to see Phantom of the Opera, which was her first love and mine too!

Ahh, vicodin is now kicking in . . . .lovely lovely lovely. The tension is draining from my shoulders. Going to watch Tuesday's episode of Lost and hope that Sawyer takes his shirt off at some point J Happy Saturday everyone!!!